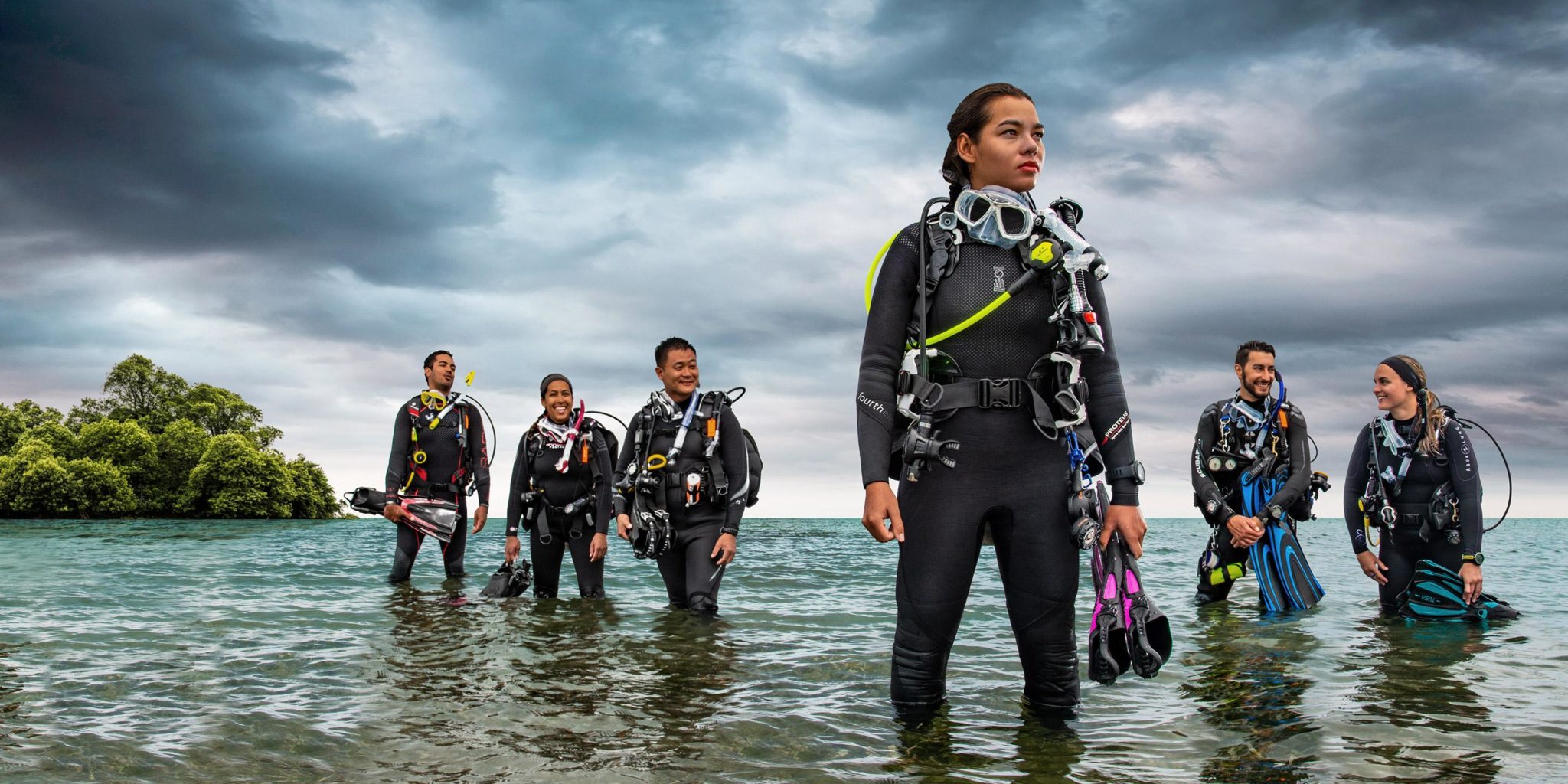 The Ocean
A place with undiscovered potential, a force so powerful, we can never truly understand what really lies beneath. The water offers peace, harmony, exploration and adventure.
But how did some of the well-known explorers, scientists and conservationists start their adventure? Who was it that taught them how to scuba dive? Dr Sylvia Earle or Sir David Attenborough for example.
Let's hear it for the Dive Professionals!
The Dive Professional
Rather than a history of scuba diving agencies or how recreational diving began, I'd like to discuss how Dive Professionals have paved the way for successful scuba diver education throughout an ever-evolving industry and sport spanning several decades.
A true PADI Professional is a sought-after individual who dedicates themselves to helping and training people from all walks of life, to introduce them to another world. This could be at the recreational, professional level or both. We want to create more ambassadors for the ocean, and more PADI Torchbearers as the ocean faces a decade requiring change that will either make or break its future!
What does it take to become a PADI Pro?
How can you build and maintain a lasting career in this industry?
As the biggest scuba diving training agency on the planet, PADI is a veritable tribe of professional members, led by an international team of experienced professionals. These guys have your back and your best interests at heart. They are a business resource, use them!
Regardless of your training agency affiliation, PADI have been the driving force behind the advertising, development, and modernisation of the professional market. With over 250,000 PADI Professionals Worldwide, operating through thousands of PADI Dive Centres, Resorts and Boats, how can anyone not be thrilled by the prospect of adventure, travel, networking, and a job they truly love?
But has anyone really stopped to think about today's PADI Pro? Is it all about ROI, turnover and KPI's (Key Performance Indicators)? Or should we be more guided by other KPI's such as health, goals, future, development, sustainability and support?
Profiling a PADI Pro
According to Scubanomics, you can separate aspiring PADI Instructors in to two camps:
Trophy Hunters; those who already have a career but want the accolade of becoming a PADI Instructor.
The Dreamers; those who want to make a career in the scuba diving industry, and teach right after their IE.
The Dreamers can achieve incredible things. But, they need to be taught how to navigate the industry, literally. All instructor candidates have one incredibly powerful motivator in common: PASSION. It will drive you to where you need to be: "Being passionate is not a bad thing. It's good! However, building a professional scuba diving industry satisfying today's consumers requires a lot more than passion." (Darcy Kieran, 2019)
The Dream should be inspired by those Pros and Instructor Trainers who identify and explain difference career choices, teach sales and marketing strategies techniques, get you and your CV interview ready and offer job placement assistance. This isn't 9-5, it's a lifestyle, and you're either in or you're out.
If you asked a non-diver to stereotype a scuba diving instructor, they would probably submit a profile of: Young, Student/Permanent Gap Year, Traveller, Eco-worrier, Lost, 'Drop Out', Beach Bum, Party Person, Hippie etc.
If you asked a scuba diver to profile a scuba diving instructor, you might hear Educator, Skipper, Ocean Ambassador, Conservationist, Marine Biologist, Emergency First Responder, Guardian, Equipment Technician, Mentor, Business Owner, Graphic Designer, Marketer etc.
Because of stereotyping, you might have to work twice as hard for people to not only understand your reasons for choosing the industry, but also how it actually works.
In my seasoned and professional opinion, I think there is a huge opportunity for the industry to be improved and uplifted here. Like any apprentice, participating in vocational training provides you with a more solid career path, with a better chance of longevity and financial assurance.
The Industry
Once you become a PADI Pro, you naturally want to find employment. Start by distinguishing between jobs that will exploit you as a new Instructor, and those that will help develop you in to a better and more well-rounded Pro. The difference comes down to the potential for training and development in the areas you really need to become proficient in, in order to progress and move forwards in the industry.
Moving Away from the Classroom
With the advent of eLearning, which absolutely has its pros and cons, training has the potential to become less focused around the instructor-student relationship. This can ultimately mean less classroom time and opportunity for you to build essential relationships with your students.
This translates to the Instructor Development Course in exactly the same way. At a time when value for money is more crucial than ever, I would urge aspiring PADI Pros to look for the added value and benefit in training programs, to ensure you get your career off to the best possible start.
As a business owner, the flip side of this is that we see a lot of Pros that have only received the bare minimum in professional level training. Training industries set minimum standards and requirements, but this doesn't mean that trainers should teach only this.
Developing a Skill Set
Beyond the IDC, the minimum training agency standards and requirements are a little more sketchy. It's down to business owners, managers and trainers to decide how much they wish invest in to candidates. How will they help develop and support a PADI Pro that has chosen this as a career, educating them in the right way and the relevant areas? Learning more about Professionalism, Customer Relations, Business Development, Social Media, Marketing, Accounting, Web Development, Graphic Design and more will provide a wider skillset to those hoping to achieve longevity in the industry. And as business owners, we need this!
Instructor turnover, particularly in resort or destination locations is high, and can be exploitative. It's a complicated industry, with many different aspects, and a complex business model requiring a variety of elements to come together successfully. Rather than Instructors who burn out after two years because they haven't developed the necessary business mindset to understand their worth, what's expected of them, had the opportunity to set long-term goals or plan their professional development, we need Instructors with a strong business-orientated skill set in addition to that infectious passion to teach and introduce people to our underwater world.
Quality Management
Arguably, the training agencies can do more to modernise and support this aspect of the industry, including more dive centre and instructor/instructor trainer checks. The PADI Quality Management Department for example works hard to ensure and manage consistency and a high standard across the spectrum of PADI Courses taught worldwide. In 2019 for example, 695,099 CEQs (Course Evaluation Questionnaires) were sent out to recreational and pro level students. 81,326 were returned, or 12% (PADI Undersea Journal, Q2 2021). There is huge room for improvement here, to help PADI do their job and cross check that courses are being taught correctly. Our Call To Action – if you receive a CEQ, take the time to fill them in! By doing so, you are strengthening the overall quality, standards and safety of the industry worldwide. Lead By Example.
In-person vs eLearning
With the advent of IDC eLearning at the end of 2019, the minimum duration of an IDC (if eLearning is completed in advance) is now 6 days. If focus is placed solely on eLearning rather than in-person teaching, there is a huge, missed opportunity here for candidate progression and development. Compare a 6 Day-Program to a Program of 21 or 28 Days. Which program is more likely to better prepare you as a PADI Instructor?
Are these shorter IDC Programs undermining and undercutting the longer, more in-depth and business-orientated programs for example? Is the industry also being undercut here, with exposure to an influx of underprepared candidates deprived of sufficient opportunity to learn and develop as much as they possibly can during such a crucial training program?

When looking at what any IDC program entails, be guided by a clear focus on what your personal development and growth will look like, how your needs and requirements will be met, alongside an acquisition of key business skills. Theory alone cannot prepare you for a successful career in any industry. Only well-organized and well-executed practical, hands on and professionally-minded training in-person can give you all the tools you need to 'make it' as a PADI Pro. Without it, you will end slipping through the net and/or burn out from exploitation and a lack of understanding about what your role as a Pro can and should entail, and/or how you can make it work for you.
Final Words
As a PADI Course Director and owner of a PADI 5 Star IDC Centre, I take my responsibilities seriously. We work to implement real business training and development aspects in to our PADI Divemaster and IDC programs, to give our training real meaning, context and application.
Don't sell yourself short as a PADI Pro. If you want to turn passion in to purpose then do your research, as lots of questions, and remember that the journey towards becoming a PADI Pro is an investment in to you and your future. Therefore it will require a commitment of time and money. You will get out what you put in. You will only ever complete one IDC in your lifetime. Make sure it's the right one for you, and one that will help you get to where you need and want to be.