Heads Up, Scuba Diver!
1. PADI Scuba Diver or PADI Open Water Diver?
If you aren't already a certified diver, we've got you covered! Here in the North of Mauritius, we have perfect training sites for every level, and especially for the entry level diver.
There are two entry level certification courses: PADI Scuba Diver and PADI Open Water Diver.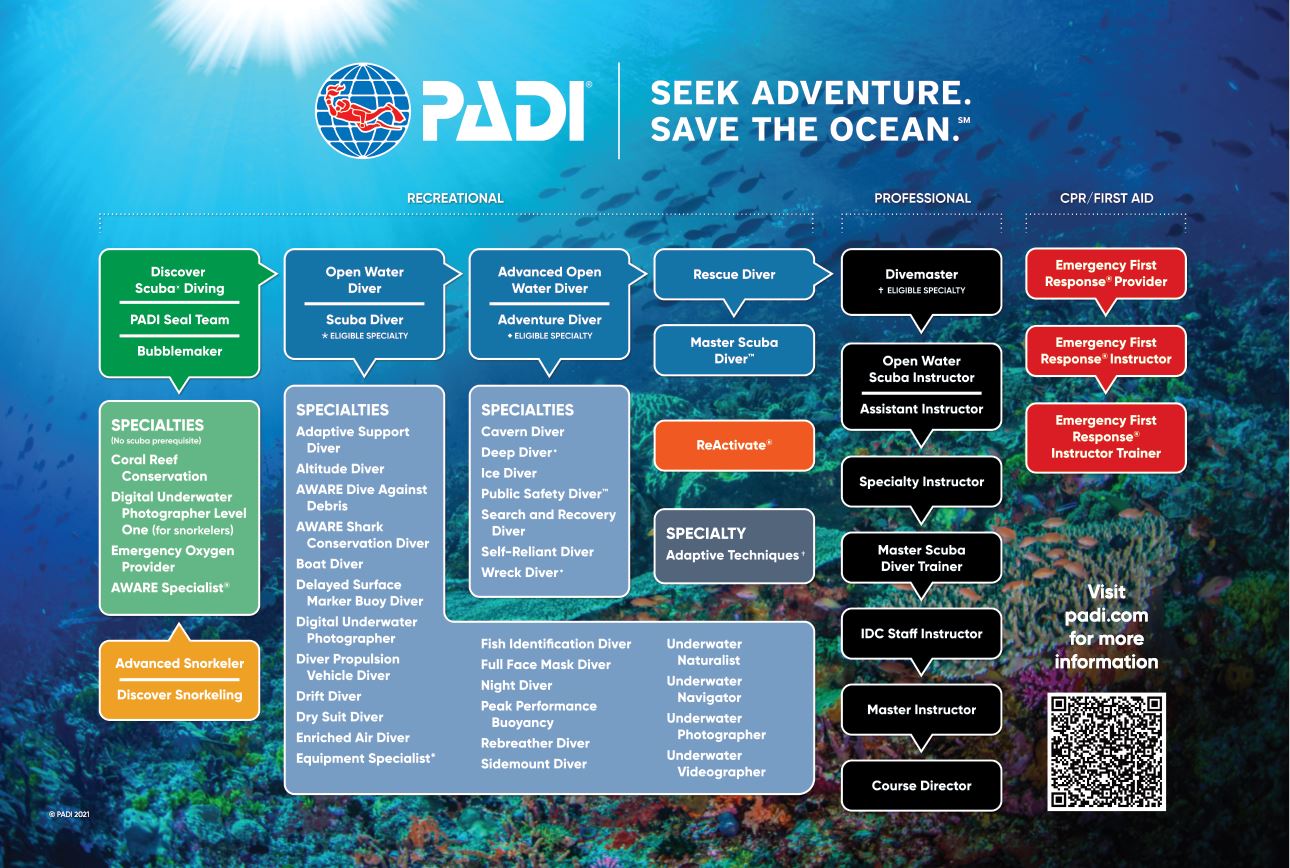 To become a PADI Scuba Diver, you need to complete the first three sections of the eLearning manual, the first three pool sessions, two ocean dives and a 10 minute float. After this, you will become certified to dive down to a maximum depth of 12m with a PADI Professional (a PADI Divemaster or Instructor).
The full PADI Open Water Certification is broken down in to two sections to provide more manageable achievements and milestones. Learning how to scuba dive is a process that takes time, and is definitely one that shouldn't be rushed.
Moving on to becoming a PADI Open Water Diver, you will need to complete the remaining two sections and final exam in the eLearning, two more pool sessions, two more ocean dives and a 200m or 300m swim.
PADI Open Water Certification enables you to dive in an independent buddy team down to 18m.
Either way, the PADI Scuba Diver and Open Water Certification is your ticket to explore the underwater world, to travel to some incredible destinations and create some unforgettable memories.
2. Everything is Digital
As a PADI Green Star Centre, we only issue digital manuals. You will receive an individual copy to register and start using instantly. There are five main learning sections, some quizzes and knowledge reviews and a final exam. You can complete your eLearning in your own time, at your own pace and in advance of your holiday and time with us in Mauritius.
What will you need to do this? On the PADI Training App, you can download and access your eLearning manual on your tablet or smartphone, and/or you can access your manual on your laptop or computer via the PADI Student Sign On: padi.com.
3. Dive Local
The borders of Mauritius re-opened on the 15th of July with quarantine in an approved hotel or resort. But the borders will re-open without quarantine for vaccinated travellers from the 1st of October.
What does this mean? We can get you diving sooner!
We firmly believe in the power of supporting your local dive shop. So, if you can complete some of your Scuba Diver or Open Water Diver Course with your local dive shop, whether that's the eLearning, in-person theory and/or pool sessions, DO IT!
We will be here and ready to welcome you when you arrive in Mauritius. We'll liaise with your local dive shop to provide your Referral Paperwork documenting your training so far. This will enable us to continue your training, and get you certified as a PADI Diver!
4. Pool Time
We are one of the few centres on the island that have a purpose built training pool, for us to get you comfortable in, before you head to the ocean. You will spend between 5 and 6 hours over 5 confined water training sessions, with breaks in between.
We can either complete the pool sessions in one day, or split them over two days. Each pool session follows on from the relevant theory section. You will learn how to set up your scuba diving gear, enter the water, move around in the water and solve common problems underwater. The most important thing to remember is to have fun!
Depending on what time of year you come diving with us, we will make sure you're happy in the water, whether that's in a rash guard, 3mm or 5mm Fourth Element wetsuit.
All you need to bring is yourself, a towel, change of clothes, food, refillable water bottle, sunscreen and a hat.
5. Explore the Ocean
Once you are done with the pool training sessions, we will get you diving in the ocean!
You will need to complete 4 training dives over the course of 2 days. Our diving day takes place between 7.30am and 12.30pm. We usually conduct our Open Water dives around the beautiful island of Coin De Mire here in the North of Mauritius.
The sheltered bay provides perfect conditions for you to take your first breath underwater! There are various skills to be completed on each dive, all of which will have been practised and mastered many times in the pool. You will be involved in all aspects of your dive planning, equipment set up, buddy checks, communication underwater, and learn more about ocean conditions, marine life and so on.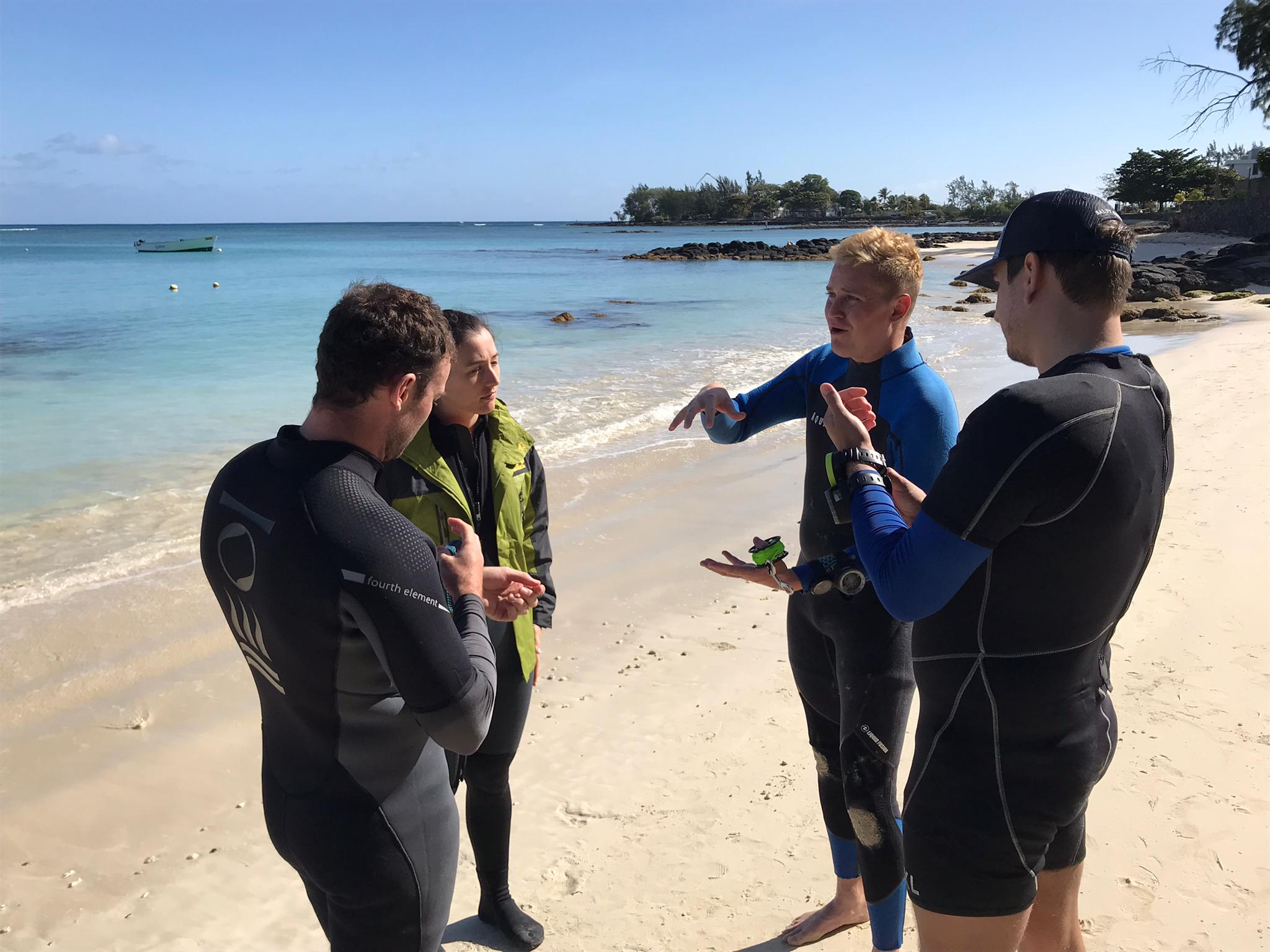 With maximum depths of 9 to 12m, warm water between 25 and 28 degrees, over 20 metres of visibility and little to no swell or current, these conditions are everything you need for your underwater adventures!
6. Nemo is Out There!
There is such a wide diversity of marine life in Mauritius including the small stuff, the big stuff, and everything else in between!
We have the opportunity to see turtles, reef sharks, whales in season, octopus, eagle rays, as well as the macro including frog fish, leaf fish, ribbon eels and mantis shrimp.
Enjoy the vibrant colours of the reef and the life that lives there. The marine ecosystem is an incredible wonder of the natural world, and you will enjoy every second that you spend with it! Bask in the warmth of the water and enjoy the feeling of peace, tranquility and weightlessness. Mindfulness at its best!
7. Continue Your Education
Once the diving bug has bitten you, which we are 99.9% sure it will, let's get you diving some more! If you scroll up to the flow chart above, you will see where your scuba diving can take you. What path will you take? What areas will you fall in love with? There is so much that you can do to strengthen your connection with the ocean.
The next step after becoming a PADI Open Water Diver the PADI Advanced Open Water Course During the Course, you get the opportunity to really start thinking and developing more like a diver, and to explore the areas of diving that interest you the most.
We usually run the Advanced course over two to three days depending on the training dives that you choose, there are 5 dives in total. You could do a night dive as part of your course for example, so the course could run over one night and two days.
There are 5 theory sections followed by 5 training dives that must be completed for certification. The mandatory training dives include the Adventure Navigation Dive, where you will work on using a compass and your orientation underwater, and the Adventure Deep Dive which teaches you more about the effects of deeper diving, enabling you to dive down to 30m. Beyond these two Adventure Dives, the other choice of Adventure Dives is entirely up to you!
8. Scuba Diving Insurance
We got you covered!! All of our PADI Scuba Diver and PADI Open Water Courses come with DAN (the Divers Alert Network) scuba diving insurance. What does this mean? You have scuba diving coverage for 6 weeks or the duration of your entry level course. In the event of an accident of injury relating to your scuba diving activity, you will be covered for evacuation assistance, emergency medical assistance and hyperbaric treatment. The nearest decompression chamber is located in Victoria Candos Hospital near Quatre Bornes.
Most travel insurance policies will also cover you for scuba diving activities up to 18m or 30m, so be sure to check if yours does, and shoot us an email if you're not sure: contact@crystaldiversmu.com
9. Accessibility of the Dive Sites
We don't have any suitable shore diving in the North of Mauritius, so all the dive sites are accessible by boat. Luckily for us, where the boat is moored in Cap Malheureux by the famous Red Church or Notre-Dame Auxiliatrice de Cap Malheureux.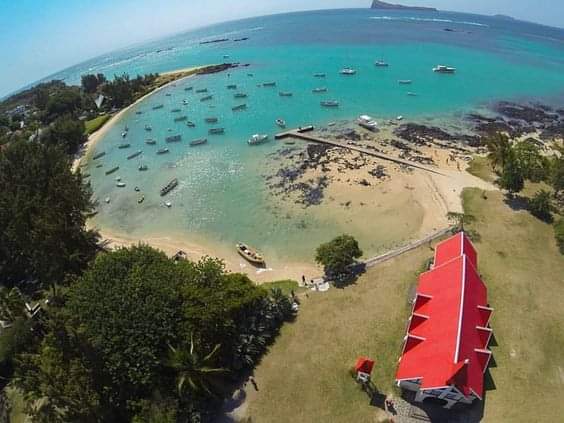 Our nearest dive sites are at Coin De Mire island which is a 7-8 minute boat ride away. The dive sites around this island offer drift, wreck, wall, reef and deep diving. We love exploring the pristine, breathtaking wrecks in Trou Aux Biches which take around 20-25 minutes to get to. There is also beautiful reef diving around the Grand Baie and Pereybere areas which are between 10 and 15 minutes away. We can also venture out to Ile Ronde and Ile Serpent, where you can enjoy vibrant coral reef, swim throughs, wall dives and stunning rock formations. Keep an eye out for reef sharks, dolphins and larger fish such as tuna and trevally! The visibility at these islands has to be seen to be believed, and is 50m plus on most days!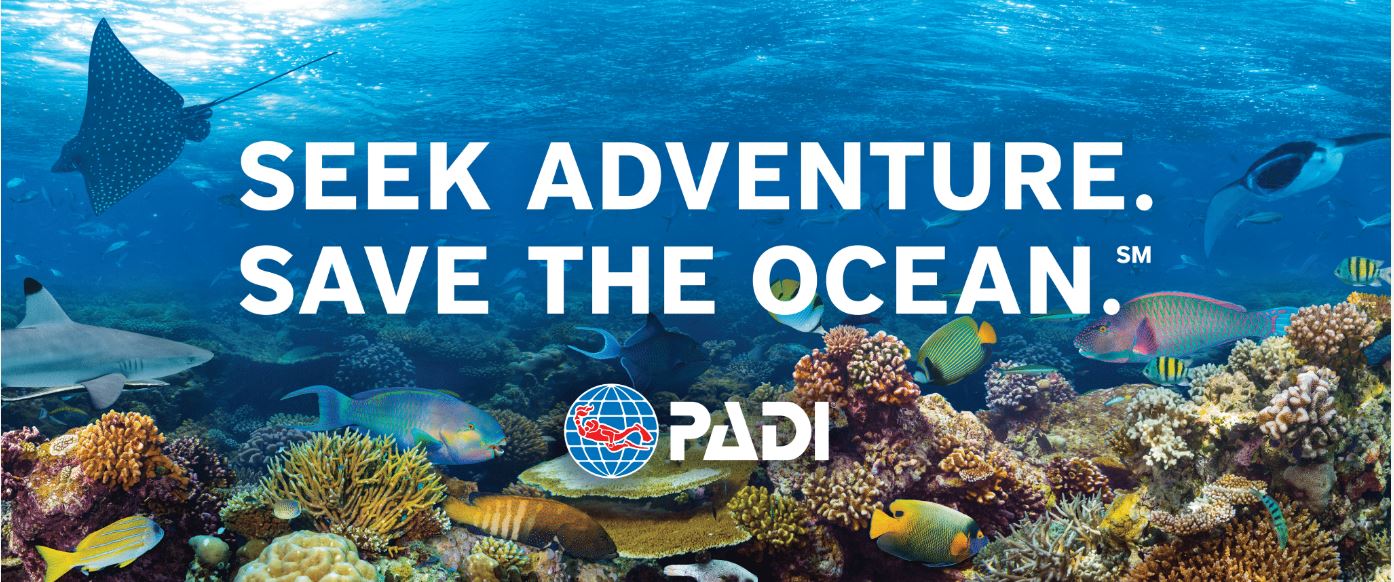 However you choose to connect with the ocean, when and where you choose to become a scuba diver, or continue your journey as a scuba diver, help us save the ocean by becoming an Ocean Ambassador and a PADI Torchbearer.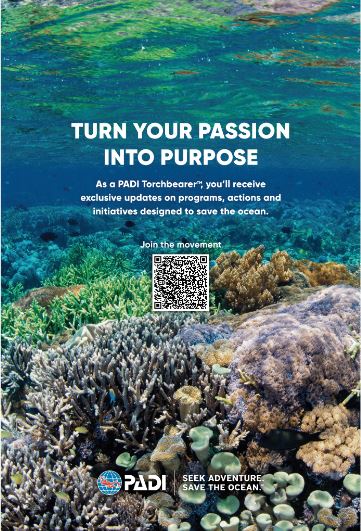 Connect with the millions of other scuba divers out there, to find out what you can do both locally and internationally, to help preserve this beautiful underwater world that we all love and depend on. As legendary oceanographer, deep sea explorer and field researcher Dr Sylvia Earle said "No water, No life. No blue, no green,".